Painters of Venice
Explore a 3D live virtual gallery of 15 paintings of Venice by Canaletto, Carlevaris, Guardi and Turner. See the three-dimensionalized canvases magically gain depth and come to life. Step into the magnificent settings, walk through Venice portrayed by great painters, watch the Carnival in the San Marco square of eighteenth-century and listen to the sounds of the ancient city accompanied by Vivaldi music taken from 4 Seasons and 1st Symphony. Choose from 3 different soundtracks the one that best suits the situation (music, sounds of Venice, or both). Delight in a captivating personal experience, which is both exciting and artistic. This unprecedented reproduction and absolutely unique gallery will turn your TV into a true living picture!
- 15 paintings by Canaletto, Carlevaris, Guardi, Turner
- 31 minutes 3D live virtual gallery
- Stereo sounds of Venice
- 15 dynamic soundscapes
- 3 audio tracks
- Music from Vivaldi
- Audio Dolby Digital
- DVD Video PAL 16:9
progressive
video region free
-
3D screensaver
- Environmental DVD
Price DVD (guaranteed delivery + shipment costs included)
Please specify your Fiscal Code in the order.
This product is under replacement warranty against defects. The progressive format is the new standard for High Definition videos. All recent DVD players and LCD/LED/PLASMA TVs are PAL/NTSC multistandard now, therefore they automatically convert PAL videos into NTSC. In order to not prejudice the vision of paintings, the 3D effect is visible without stereoscopic glasses.
Terms of sale
Press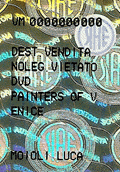 Unauthorised copying, hiring, video projection and TV broadcasting of this DVD is prohibited. If the package lacks the holographic sticker it is an illegal copy, please report the fraud.
© 2010 Luca Moioli. All rights reserved.
(Dirk and Carol - December 20, 2011)
For the last few weeks DVDart has been within our thoughts. We are enjoying the beautiful DVD that you have created. It is a true pleasure to enjoy the your incredible art composition in the privacy of our living room. The DVD is outstanding and will be enjoyed for long time to come.
(Ian - January 30, 2014)
Have just ordered another in this fascinating, educational and very relaxing series. The service and customer care is also excellent.
(Eine Nacht in Venedig - Wasserburg 30 July 2016)
Concert with synchronized video projection.
Music of Vivaldi, Mendelssohn, Marcello, Bach, Scarlatti, Wagner, Ponce, Briccialdi, Liszt, Galuppi, Caccini, Chopin.
Performers:
Rita Kaufmann, piano
Wolfgang Auer, flute
Jiain Li, piano
Anahita Ahsef, soprano
Dongyang Liu, piano
Lei Meng, piano
Luis Carlos Juarez Salas, piano
Ryuzo Seko, piano