Worlds Beyond Imagination
Second Edition
Fractal animations presented in this DVD make us aware of the intrinsic beauty of mathematics. Specifically, each animation is the result of detailed computer-based research and selection where, as occurs with natural selection, fractals are generated through new mathematical functions and are left to evolve, appropriately selecting the offspring. The background music is generated and chosen with the same care to fit perfectly to each fractal. The alluring images created by mathematics and their astounding resemblance to natural shapes convey the same harmonious feelings we experience when we contemplate nature. By exploring mathematical worlds you find delightful artistic territories that speak an universal language charged with serenity and wonder. We feel we are travelling beyond imagination, absorbed by an endless sequence of distant worlds, a vision of harmony in motion concretised out of nothing.
- 12 live fractals
- 2 audio tracks (relaxing and energetic)
- Audio Dolby Digital
- 55 minutes PAL 16:9
progressive
video region free
-
3D Screensaver
- Environmental DVD
News of Second Edition:
the DVD has been fully renderized with a higher quality data stream. The video format has gone from 4:3 interlaced to 16:9 progressive. The audio is in Dolby Digital stereo. It was also added a 3D screensaver with 10 unreleased fractals.
Price (guaranteed delivery + shipment costs included)
Please specify your Fiscal Code in the order.
This product is under replacement warrantyagainst defects.
Terms of sale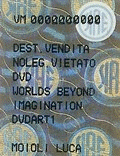 Unauthorised copying, hiring, video projection and TV broadcasting of this DVD is prohibited. If the package lacks the holographic sticker it is an illegal copy, please report the fraud.
© 2007 Luca Moioli. All rights reserved.

(Benoit Mandelbrot)
It is believed that in some way fractals have correlation with the structure of the human mind, that is why people find them so familiar. This familiarity is still a mystery and more is on the topic and more the mystery increases.
(Tapio - May 26, 2009)
I just want to give you the feedback, that I really love your DVD "Worlds Beyond Imagination"! Great animations and this perfect fitting, fantastic soundtracks! I can't wait to buy an appreciate digital picture-frame for a "living picture".
Thank you so much
(Thomas - September 22, 2014)
Thank you so much for your fractal-artwork, it is great!! It is marvellous to see this beautiful and endless variations which are making visible the beauty of the hidden nature. I will enjoy it very often, my family is enthusiastic about it too.